Perry History Club Upcoming Events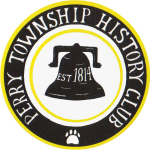 A Strawberry Social will be held at the old Genoa Schoolhouse on Genoa Road South across the street from the Perry Police Department on  
June 18th
from
2 to 4 p.m.
 Enjoy strawberries, ice cream, and shortcake.  Play  games, take a peek at our new floor in the schoolhouse and learn about our township history.
The next meeting is
Monday, June 20, 2016, at 6 p.m.
  The speaker will be our historian, Cary Coates,  the subject is Genealogy.  The Perry History Club meets on Genoa Rd SW in the lower level of the Perry Police Department. The public is welcome.